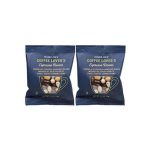 Put a spin on this mothers day classic. Made with 100% Arabica beans from Brazil, these Trader Joe's Coffee Lover's Espresso Beans come in a variety of colors that evoke a different style of coffee. The black ones are covered in rich, dark chocolate, bringing to mind a deep, dark mocha; The lighter brown ones, covered in milk chocolate, capture the essence of cappuccino.
Learn More (paid link)
See More Christmas Gift Ideas!